Moulin de Valette
Perfect voor een familievakantie, groepsvakantie, of zelfs weekendtrip in een authentiek Frans landhuis. Een inspirerende Franse landelijke omgeving waardoor u en uw familie of vrienden heerlijk tot rust kunnen komen. Lees verder voor meer details over ons vakantiehuis in Frankrijk.
Moulin de Valette is een karakteristieke oude watermolen, gebouwd rond 1850, die zijn energie haalde uit het water van het stuwmeer aan de NW zijde van de dijk, voor de molen. Er zijn onlangs archeologische vondsten gedaan die erop wijzen dat er op deze plek al in de Middeleeuwen een molen heeft gestaan die hoorde bij een iets hoger gelegen kasteel. Nu is het een imposant groot vakantiehuis bestaande uit; molenaarswoning, watermolen en klein huisje op de dijk. Verder zijn er verscheidene schuren. Het ligt volledig vrij, in een landelijke omgeving en heeft een eigen terrein van ca. 12 hectare, waarvan 5 hectare privé meer.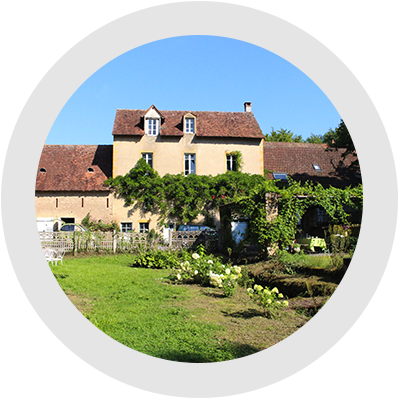 Geniet van uw verblijf en ervaar uw authentieke Franse vakantie in de Bourgogne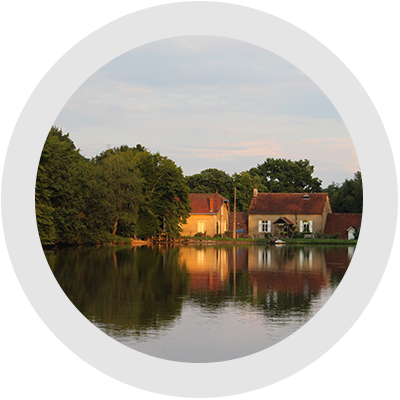 Zwem, vis, vaar of geniet van heerlijke avonden aan of op het meer
De kleurrijke tuin leent zich perfect voor een boekje lezen in de zon of een gezellig ontbijt buiten
See the beauty of Moulin De Valette
"Authentical French Indulgance!"
A fantastic holiday atmosphere where the real authentic French atmosphere is fully experienced! And where a perfect rest is made possible by the fantastic and relaxing environment / house. I look back on several unforgettable vacations at this special location.
by Annemiek
"Wonderful holiday!"
The mill is situated in a stunning location. From the first contact with the owner it was clearly indicated us that the building is old but clean. This means that some furniture is worn and old infrastructure but immaculate on arrival! It is a beautiful setting and ideal for holidays with children (we were 6 adults and 7 children). The housekeeper is a very helpful man and the reservation has been very correctly processed. Our full guarantee had been refunded within 10 days despite minor damages that we reported. Here you rent an old but beautiful building and domain where you do not have to fear that your child can damage an expensive piece of furniture all the time. Room enough for three families, but also space for privacy when needed. It's not cheap but for us it was worth every euro! Recommended!!
by Ben
"Like a god in France!"
Amazing authentic French house with old baker's mill, surrounded by a glowing landscape with streams, lots of greenery and is enchanting. At the house is a large private lake. Because of the many bedrooms each have their own color and unique design is suitable for a large family or group. There are four bathrooms fully equipped 2 with bath, 1 bathroom has a bath from stunning views over the creek.
The large living room with open kitchen and huge fireplace is at very cozy. The living room is furnished country style which you are in a very warm and comfortable ambience. Besides the living room is the den where you can have a lovely retreat in the little fire stove. The house breathes enjoyment and fun and you feel immediately completely safe and happy! At the back of the house is a covered terrace where you can have a wonderful BBQ.
The owners are very friendly and warm people and are very helpful.
by Marjolijn Mulder